Vibration testing and analysis is an important factor in determining how components will hold up to everyday use and to the various shipping methods used for transporting product from location to location. Your team may be required to test products for development, reliability, or safety protocols depending on the products intended use and exposure environment.  When material or products are transported they are subjected to various conditions such as temperature variation, long term temperature exposure and the vibratory conditions supplied by road, rail and air travel.  Most products are developed to withstand these types of environments and vibration testing is a necessary component to ensuring compliance.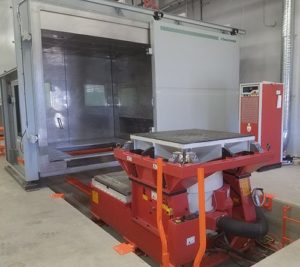 J.A. King offers vibration testing and analysis with state-of-the-art equipment that allows our team to simulate and monitor climate conditions while testing for vibratory impact.  Our chambers have large scale footprints that allow us to meet most product, packaging, or material size needs.  Our ability to design and build custom test rigs allow us to support your vibration needs with fixturing and test design.  With our data collection systems, we can also analyze the effects of test on part as the test is being conducted.  Pre/Post photogrammetry, gap and other test methods allow us to determine compliance of most specification requirements.  With the added ability to perform environmental tests such as sun simulation or salt spray analysis, J.A. King can handle your entire project, without needing to utilize multiple sources.
For more information about vibration testing with J.A. King, click on the button below to learn more or schedule a test today.