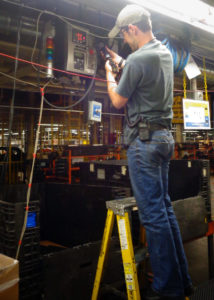 J.A. King has partnerships with large and small manufacturers to provide our services on a fully-integrated basis at their facilities. Engagements range from one technician performing on-site calibrations one day per week to over 70 full-time J.A. King technicians performing calibrations, repair, quality assurance, and quality control auditing.
An embedded partnership allows your team to focus on your core business while our experts handle your quality needs. Programs are tailored to meet your specific quality and measurement requirements and are implemented to ensure a seamless transition. Both companies agree KPIs ahead of time and we report back on them to you on a regular basis.
Embedded Service Expertise Includes:
Calibration and Repair
Incoming Parts Inspection
Quality Assurance Auditing
Quality Control Auditing
Capability Studies, Process, and Line Audits
Asset Management
The benefits of an embedded partnership include:
Full time calibration and measurement expertise, at your disposal
ISO 17025 accredited calibration, repair and QC audit services
Scale up or down as necessary; no recruiting, training, or legacy costs
One simple monthly billing system
Award winning cloud-based tracking and reporting system
We are confident that our embedded services will increase the integrity of your quality system and reduce your risk!