When performing dimensional inspection, there are many well developed measurement methods which are very accurate and highly recommended.  Our experts explain some of the benefits and key differences between some of those methods such as, CMMs, Portable Arm CMM's, Video Measurement systems, and Optical Comparator's.  Read on to get some insight into how you can determine which is best for your application.
Coordinate Measuring Machines or (CMMs):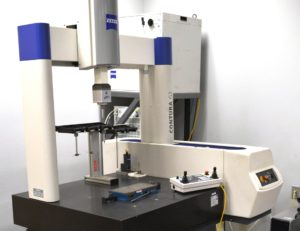 CMMs have been used for years in the quality industry.  Many quality labs are required to perform precise measurements on several detailed items at a time, CMMs have been the "go to" form of measurement in quality departments.  One of the biggest benefits of using a CMM in your quality department is the ability to write programs, which can be run either manually or automatically. There are a number of accessory items that make your inspections more repeatable via Modular of dedicated fixtures, multiple probe options and Styli.
Since CMMs are designed for contact measurements with a variety of probes. CMM's have the capability to measure three dimensional objects with relative ease.  CMMs are fully customizable based on your application and can range from $50K to $500K.  A CMM is the best option for measurements in your lab, or on the manufacturing floor.
Portable Arm CMM's:
Portable Arm CMMs are designed to measure larger envelopes and are portable, giving them the option of taking them to your CNC machine making your parts, visiting supplier or customers. Many of our customers use this technology to measure their parts while they are still mounted in the CNC machine.
As with CMMs, Portable Arm CMMs require trained operators.  Portable Arm CMMs are typically a good option for production operations with large parts that need measurement without bringing them to the QC Lab for measurement.
Optical Comparators:
Optical comparators, like CMM's have been used for many years to take two dimensional measurements of objects projected onto a glass screen.  Because of projection methods, optical comparators can measure very small items measurable with relative ease by magnifying the image on the screen.  Older optical comparators work by manually taking measurement points with crosshairs on the screen.  The newer models offer optical edge detection which detects the edge of parts for greater accuracy, quicker measurement and improve the accuracy and repeatability.
Optical comparators are typically less expensive than other inspection methods because they don't require PC based software and are relatively easy to use. These are typically a good option in production environments, incoming inspection or in your quality lab.  These are also a good option for non-contact measurement of deflectable parts like rubber, foam of thin walled parts.
Video Measurement Systems: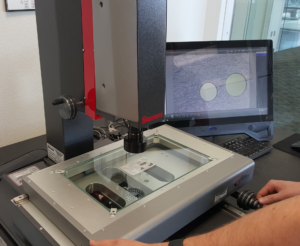 With advances in technology and the increasingly fast paced environments in many industries, video measurement systems have hit the market to improve speed and efficiency.  Before video systems, quality labs have had to rely on slower forms of measurement such as optical comparators or hand tools.  A video measurement system ties that all together in a much faster tool for measuring by using Zoom Optics, much better lighting and multiple sensors. Video measuring machines can include a Renishaw Touch Probe and Laser Scanner for additional capability.
Most video measurement systems are fully customizable based on your application.  They come in a variety of measuring stages and field of view options based on needs.  The software used on most of these systems is very user intuitive and easy to use.  These are also non-contact measuring devices.
The Key Differences:
While CMMs are great for detailed three dimensional objects, portable arm CMMs are needed for measuring of larger parts, video measurement systems or optical comparators are much quicker at taking two dimensional measurements.  Take a look at the table below to check out some general data and see which method might be best for your application.
Coordinate Measuring Machine (CMM)
Portable Measuring Arm
Video Measurement System
Optical Comparator
Trained/Certified Operator?
Yes
Yes
Depends on Software
No
Customizable System?
Yes
Yes
Yes
Yes
Dimensional Capability
3D
3D
2 1/2D
2D
Contact Measurement?
Yes
Yes
Optional
No
Accuracies
Roughly 0.00025"
Roughly 0.001"
Roughy 0.0002"
Roughy 0.0005"
Compatible with CAD/DXF?
Yes
Yes
Yes
No
Environmental Requirements
In Lab / Shop Floor
In Lab / Shop Floor
In Lab / Shop Floor
In Lab / Shop Floor
Space Required
Floor Standing:25-50 sqft
Mobile Unit: 3-5 sqft
Tabletop: 5-10 sqft
Tabletop or Floor Standing: 5-10 sqft
Air Required
75-80 PSI
No
No
No
Suggested Use:
Use in qc lab or Shop Floor for repetitive or 3D measurements of detailed parts
Use for large machined parts in line on the production floor or at your customer's site
Use in lab / Shop Floor for quick and simple repetitive 2D
measurements
Use in lab / Shop Floor for quick and simple 2D measurements
Price Range
$50K-$500K
$50K-$75K
$15K-$75K
$12K-$30K
Still unsure of what would be best for your operation? Give us a call at 800.327.7727 to learn more or click on the button below to request information about equipment! Let us help you select the correct equipment for your needs.