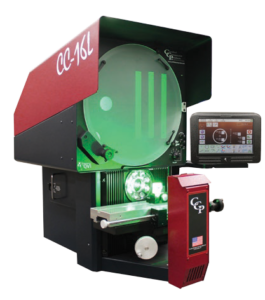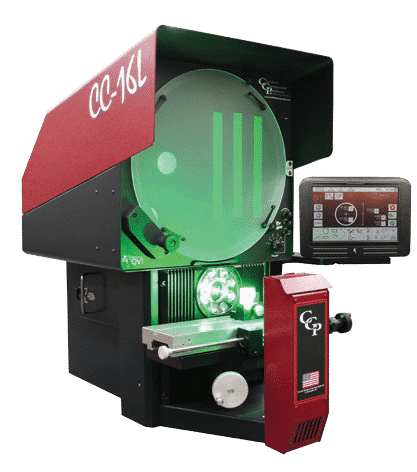 The CC-16L is a high quality benchtop optical comparator offered by CCP. It's designed for quality measurement either in the lab or on the shop floor and offers a range of innovative options allowing you to configure a system to your specific needs. As with other models in the CC series of optical comparators, the 16 inch diameter screen displays crisp, evenly illuminated images at every magnification.
Available with TruLight all-LED illumination, utilize variable lighting intensities for optimal performance. In addition, with ergonomic controls at your fingertips, you can complete your applications fatigue free.
---
Standard Features and Benefits
---
Available Options and Accessories
Adjustable direct projection iris
EdgeScan internal automatic edge detection (requires a Quadra-Check or Q-Touch DRO)
Projectron automatic grayscale edge detection (requires a Q-Check DRO)
Fixture and calibration reticles
Fresnel lens
Overhead light shield
Glass and plastic overlay charts
steel weldmont stand
Ergonomic, motorized adjustable height stand
Service and support contracts
Optional Software
Quadra-Chek® QC-Wedge (requires Microsoft® Excel™)
---
Resources
CC-16L Contour Projector (Data Sheet)
CCP Product Line (Brochure)
CCP Product Line (Catalog)
---
As a distributor for QVI and CCP, J.A. King offers CC-16L systems throughout all of our sales territories. For more information about the CCP products we offer, or to get a quote for new equipment, click on the link below to discuss your needs with a J.A. King team member.
---
Interested in calibration services for this or other similar products? Take a look at the dimensional calibration services offered by J.A. King.